schrillmann Alle sagten: Das geht nicht. Das wusste ich und hab's nicht gemacht.
Wieder gemerkt: Man sollte beim Programmieren nicht versuchen, Code zu schreiben, der cleverer ist, als man selbst.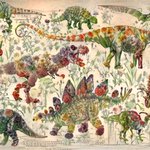 chrisrodley I used deep learning to cross a book of dinosaurs X a book of flowers pic.twitter.com/xT7kjkOL9E
@blusquare Mit Instagram werden die Gebete wenigstens erhört. Gott hat noch keinen meiner Selfies geliket.
aedison On the pedestal these words appear:
My name is Ozymandias–King of Kings;
Look on my Works, and let me know what you think in the comments.
These: Das Instagramfoto vom/vor dem Essen ersetzt das Tischgebet. Ritualisiertes Innehalten und Wertschätzen.

You headed it here first!
Angst. pic.twitter.com/GxgpDY9cEK
kochkunstEbooks Interessant ist auch, was mit dem kleinen Löffel gegessen wird.